Rowing is a fitness sensation across the nation and the media is talking!
Check out the articles below to see what they're saying about Powerhouse Fitness, or listen to Jack get interviewed online.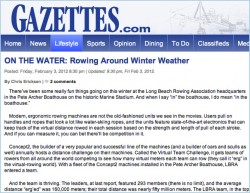 Gazette Newspapers, February 3, 2012
ON THE WATER: Rowing Around Winter Weather
There've been some really fun things going on this winter at the Long Beach Rowing Association headquarters in the Pete Archer Boathouse on the historic Marine Stadium. And when I say "in" the boathouse, I do mean "in the boathouse."
---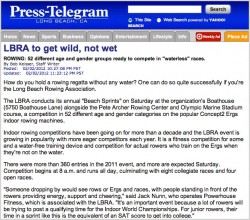 Press-Telegram, February 2, 2012
LBRA to get wild, not wet
How do you hold a rowing regatta without any water? One can do so quite successfully if you're the Long Beach Rowing Association. The LBRA conducts its annual "Beach Sprints" on Saturday at the organization's Boathouse (5750 Boathouse Lane) alongside the Pete Archer Rowing Center and Olympic Marine Stadium course, a competition in 52 different age and gender categories on the popular Concept2 Ergs indoor rowing machines.
---
Press-Telegram, January 4, 2012
Rowing is growing in local waters
Membership in the 80-year-old Long Beach Rowing Association has steadily increased, and Powerhouse Fitness now has two gyms geared toward the Erg, which is Latin for "work" – sharing one with the LBRA at the boathouse (5750 Boathouse Lane) and another on 1347 Loma Street.
---
California Style
Group Mentality: New Fitness Classes in Long Beach Set a Different Tone
Bootcamp meets circuit training for a variety of 60-minute, high-interval classes complete with kettle bells, TRX, wall squats, push-ups, spinning, dumbbells and rowing on Concept2 machines. "People assume that it's all upper body, but rowing is actually 70% legs, and it burns more calories per minute than most sports."
Take a closer look at this article…
---
My Local Buzz (Best of LA Fitness) – Powerhouse Fitness from AffinityTV247 on Vimeo.  Visit Powerhouse Fitness on My Local Buzz TV.
---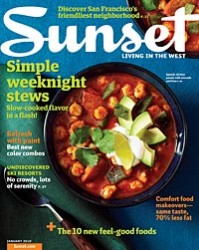 Sunset Magazine, January 2010 Issue
Try a Different Workout
Your chances of becoming an Olympian are probably slim, but hey, you can still train like one.  Powerhouse Fitness offers indoor rowing classes, taught by US National Team rowers on Concept2 machines.
---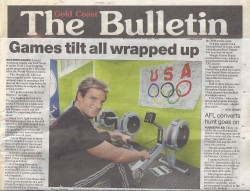 The Gold Coast Newspaper
An interview with Jack Nunn during the Worlds Masters Games 2009 in Sydney, Australia. The article talks about Jack's experience as a rower and the rising popularity of group indoor rowing.
---
Meet four athletes poised to go for gold in the summer of 2004… This Bay Area magazine article interviews Jack Nunn as he prepares for the '04 Olympics. "Rowing has gotten me all kinds of opportunities," he says. "I feel like I owe something back."
---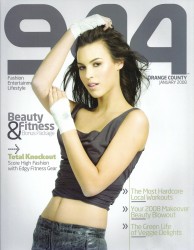 944 Orange County
Rowing To Success
---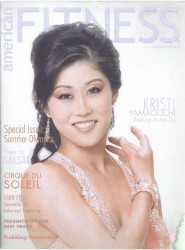 American Fitness
"Rowing Classes Open Coast to Coast"
A former Olympic hopeful is taking the country by storm with group indoor rowing classes.
---
Back To The Body Shop Rowing
For those who enjoy rowing but don't have the discipline to go it alone, a 50-minute full-body fitness class on rowing machines, is spreading to gyms nationwide.
---
In 2000, Cosmo Magazine featured Jack Nun as one of their "Bachelors of the Year." This "smooth operator" (their words not ours) met his high school girlfriend through rowing.
---